Adaptability - One of an essential key for businesses in the COVID-19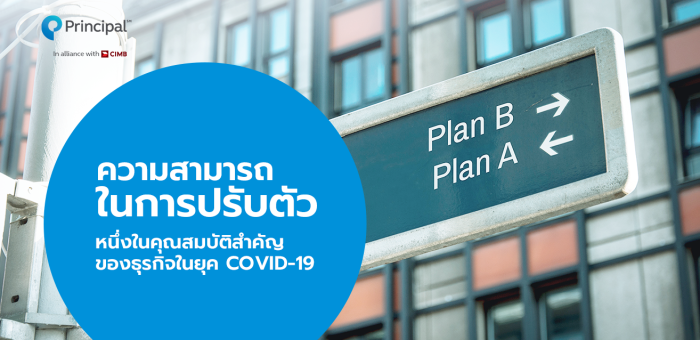 In the past several months amid the COVID-19 pandemic, it is believed that one of the most talked in the industries and general conversation is "The issue of adaptability". The fact of adaptability is an essential feature in every moment not only in the crisis because the world is always changing.
In the past 1-2 decades, the world changed like turned the tables. A business that was very prosperous, in that time, such as oil and gas or coal and automotive, were being replaced by new forms of energy such as driverless car and various innovations that facilitate the consumers in many new ways. Many businesses could adapt to find the way to drive their businesses in the changing world trend, will survive and grow but some businesses that cannot adapt will eventually die.
Principal Global Opportunity Fund - Outstanding Yield Fund That Choose to Invest in Well Adapted Businesses

Principal Global Opportunity Fund and Feeder Fund are the first and only fund in Thailand that invest in Morgan Stanley Global Opportunity Fund which focuses on investing in good quality selective stocks in disruptive change theme. They select good quality companies with high adaptability and most businesses that invested are businesses in the group.
• Technology that gets benefit directly in the age of globalization such as Amazon company, the owner of the world's largest e-commerce platform that can expand opportunities to invest in other technology businesses and likely to grow continuously.
• Businesses that focus on using technology to increase efficiency in production, distribution and reduce costs such as DSV company, a transportation business, uses technology to connect vehicle owners and customers who want to distribute products and increase value to the economy system.
• Other businesses that adapt to the changing world trends such as Hermes, the original leather maker used for riding, turned to make leather goods and high-end bags, Hermes Birkin and Hermes Kelly, which cost more than hundred thousand baht, but had to queue to buy all over the world. Besides, Chinese seasoning maker, Foshan Haitian, a distinctive flavored soy sauce that has long been a companion to Chinese kitchens and they are also not affected by globalization.
More importantly, amid the COVID-19 pandemic in 2020, as a result of choosing to invest in a highly adaptable business, the Principal Global Opportunity Fund can generate returns up to 52.91% compare to Benchmark could generate only 18.56%. (Data is presented as of 30/12/2020) (Benchmark: M1WD Index (THB) 50% + M1WD index adjusted with FX hedging cost 50%)
For more inforamtion https://www.principal.th/en/principal/GOPP-A
For further study https://www.principal.th/en/mutual-fundth
Follow Principal Thailand now at;
Facebook : https://www.facebook.com/principalthailand
LINE : https://lin.ee/C6KFF6E หรือ @principalthailand
YouTube : https://www.youtube.com/channel/UCqELMp69UteyKgtWo4JuBqg
Disclaimers:
• Investors should understand the product type (fund), conditions, returns, and risk before deciding to invest.
• Master fund is concentrated in North America; therefore, investors should consider the diversification of their investment portfolio
• Previous performance could not guarantee for future performance