This block is broken or missing. You may be missing content or you might need to enable the original module.
Cloud computing, The technology behind the success of the online world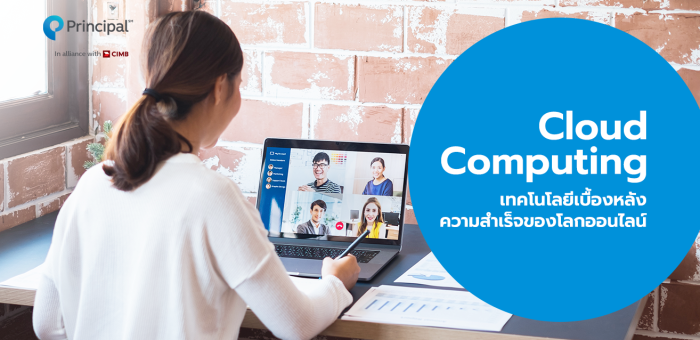 In today's world, technology has become an essential part of our lives. We must admit that the very first thing most people do when they wake up in the morning is checking their phones, reading their email, chatting with friends and family or even checking their social media applications to get real time updates. During the day at work, internet has been used for people to get connected and search online to get what they are looking for. Or even doing online transaction such as mobile banking or internet banking is not considered something new anymore, it has become the new normal way of life for most people.
Moreover, many organizations are currently using cloud computing to store their work through platform such as Dropbox, Google drive and One Drive. We can see that the COVID-19 outbreak has been the crucial factor that transformed digital and technology world. Organizations all over the world are adopting online infrastructure into their business to create an efficient, effective, and sustainable business. We can see the acceleration of E-commerce sales growth during the pandemic while people were staying home shopping and conduction online transactions.
Imagine online digital data as a "Passenger" and online infrastructure as a "Train". A train will transport passengers to places while using the "Railway system" as a system that link places together. In the online world, Cloud computing technology acts as a train to transport the data by using internet system to deliver data to places worldwide. It is real time and you only need the internet access.
Cloud computing technology is the technology that helps managing information electronically. It allows us to access information anywhere in the world if only we have internet access. Today, services that we are using and only require username and password to log in without downloading and installing any programs or applications, are usually using cloud computing technology. The more data storage they need, the more cloud computing technology they require.
Cloud Computing is now attracting global investments with a market capitalization of more than USD 1 trillion. But looking back five years ago, you will see that the cloud computing market is forecasted to be just USD 5 billion in 2020. Cloud service is increasing its popularity over time. This means that there is more than twice the expected demand for Could Computing which reflects the growth opportunities for this sector.
While cloud computing has been widely used in tech-driven economies, it only accounts for 30% of the global software market. It is forecasted to occupy more than 90% of global software market by 2030 or in the next 10 years. For future trends, we believe that there is no technology that can replace and compete with Cloud Computing. Thus, people are likely to adopt the cloud services even more which offer high potential growth for cloud and cloud related sectors.
Increasing in internet penetration, higher competition of smart phone prices, higher internet speed (5G) and IoT (Internet of thing) will help increasing online digital growth. As results, online businesses will need more storage and cloud computing is the only answer. For investors who are interested in investing in cloud computing business, Principal Asset Management wishes to propose "Principal Global Cloud Computing Fund" (PRINCIPAL GCLOUD – A). The Fund will invest in WisdomTree Cloud Computing UCITs ETF – USD Acc Class (Master Fund) which managed by WisdomTree Management Ltd.
The Master fund mainly invest in companies that majority source of their revenues come from Cloud Services (Pure Play) with a strong selecting criterion. E.g. Cloud services system that can be accessed via smart phones with Subscription-Based, Volume-Based or Transaction-based offering model. For example, Zoom, Shopify, Adobe, Saleforce.com and 2U etc.
The Master fund will invest in a portfolio of equities that consists of a representative sample of the component securities of the BVP NASDAQ Emerging Cloud Index. The Master fund is also using Equal-weighted Allocation investment strategy which help diversify the investment to equities that are in BVP Nasdaq Emerging Cloud Index equally. Also, help enhancing opportunity to invest in mid-smaller company with high growth potential. Therefore, if there are market challenger companies emerge in the market and fall into the BVP NASDAQ Emerging Cloud Index's strong equities selecting criteria, then the fund will not miss the opportunity to invest in those companies as well.
We all must admit that digital world is more convenient, faster, and lower cost, we are unlikely to go back the traditional offline system. Massive amounts of digital data generated by business and consumer activity in the digitalized world will be increasing year after year. The cloud computing is considered the infrastructure of the future. It has added value to economic growth. It offers businesses with more flexibility, more convenient, more data security and it also can be beneficial in many other ways we could imagine. The old traditional data management will be replaced by the cloud computing system until one day no one will ever go back to use the traditional system again.
For more information on PRINCIPAL GCLOUD – https://www.principal.th/en/principal/GCLOUD-A
Disclaimer:
• The investors should study and understand the product (fund) feature, return condition and risk factors carefully before making an investment.
• Master fund has highly concentrated investment in USA. Therefore, investors have to diversify investment for their portfolios.
• This fund mainly invests in technology sector. Therefore, there is a risk for investors for losing lots of money.
• The fund or Master fund may use derivatives as a tool for hedging purpose depends on fund manager decision.
• The fund has exposure in foreign exchange risk, investors may receive gains or losses from foreign exchange or may lose the initial investment.
• Past performance is not a guarantee of future results.