Cloud computing the business from digital world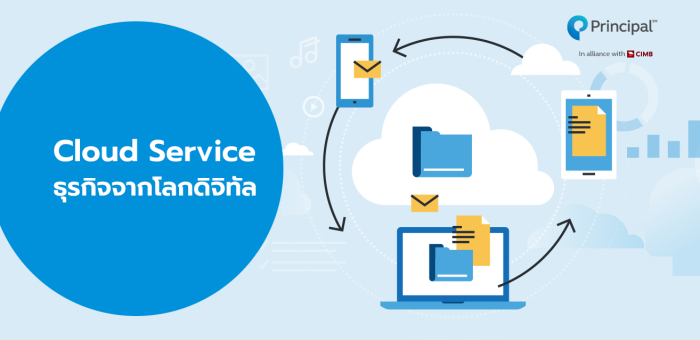 Today, it is undeniable that technology has become an essential part of our lives. We must admit that living a day without technology would be somewhat difficult. Technology makes our lives easier, more convenient, and more efficient. Thus, it is not surprised that many of valuable companies that deliver the highest growth potential in the world are technology companies. Stocks in technology sector has been eyed from investors around the world. According to Nasdaq Composite Index, the index has gained an impressive 37.5% since August 2020. Also, investments in technology sector have delivered 5-6 times returns.
Many years ago, cloud computing was only basic infrastructure. Then, the world becomes digitalize and technology are transforming, cloud computing companies are directly benefit from the technology development and became the platform for data storage which also known as "cloud storage". Massive amounts of digital data generated by business and consumer activity in the digitalized world. Thus, those data needed to be stored and managed properly to enhance efficiency for businesses. Thus, cloud computing sector is considered one of the highest growth industries and will be one of the global megatrends that offer the investment opportunities.
What is cloud computing?
In the past when we need data storage we would go out and buy Hard disk drive (HDD), CD/DVD or flash drive to store your valuable data. However, we usually face the problem that the storage we bought never had enough space. Data loss and integrity failure due to physical vulnerability could happen. Sometimes, we only need 10-20 GB storage, but hard disk drive (HDD) normally offers 250-500 GB storage. We can solve all these problem by using "Cloud computing services"
People normally familiars with iCloud from Apple's iPhone or Microsoft OneDrive which offer only data storage. But cloud computing is more than just providing data storage. Cloud computing is services that offer individuals and businesses to be able to store, access and manage their large amounts of data generation over the internet.
Cloud computing has added value economic growth, we can create websites and applications on cloud that can be used to communicate in daily life such as Facebook and Instagram.
Cloud service is increasing its popularity over time. Imagine we are outside the office for the important meeting and we urgently need to download significant data for the meeting. If we are using traditional data storage, we must go back to the office or home to get the data which stored in the device. Instead, we can simply download the data that stored in cloud everywhere only using the internet. With the help of increasing internet access over decade through mobile phones and other devices, cloud computing companies are growing and considered high growth value companies. The value of the world's largest cloud computing company has grown 44 times from 2008 to 2020. The market value of this industry is over USD 1 trillion.
While cloud computing has been widely used in tech-driven economies, it only accounts for 35% of the global software market. Cloud computing offers businesses with more flexibility and convenient and it also can be beneficial in many other ways. Firstly, cloud computing will be able to reduce extra expenses for organizations. Most cloud computing service providers offer customers in subscription-based pricing which means customers will get the exact data storage that they need and will not be charged for unused spaces. Cloud computing can also help organizations to avoid high initial cost for investing in in-house system and able to manage data storage more efficiently. Additionally, it automatically provides software update.
Increasing in internet penetration, higher competition of smart phone prices, higher internet speed (5G) and IoT (Internet of thing) will help increasing cloud computing penetration. As a result, people are likely to adopt the cloud services even more which offer high potential growth for cloud and cloud related sectors.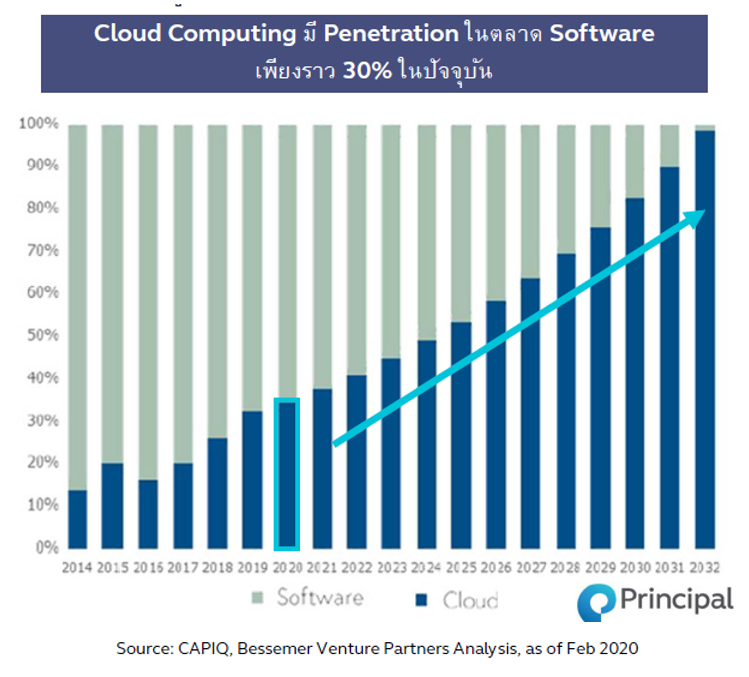 ​
Subscription-based pricing model offers cloud computing businesses a recurring revenue.

As mentioned earlier, cloud computing service providers normally offer customers with subscription-based pricing or monthly payment. This will offer customers with flexibility to adjust their payment plan which depends on their business structure. For example, customers can simply change their subscription plan when they have increased their customers base or choose cheaper subscription plan during the impact economic slowdown. As a result, cloud computing service providers will be able to maintain their recurring revenue.
For investors who are interested in investing in cloud computing business, Principal Asset Management wishes to propose "Principal Global Cloud Computing Fund" (PRINCIPAL GCLOUD – A). The Fund will invest in WisdomTree Cloud Computing UCITs ETF – USD Acc Class (Master Fund) which managed by WisdomTree Management Ltd. The Master fund will invest in a portfolio of equities that consists of a representative sample of the component securities of the BVP NASDAQ Emerging Cloud Index. The Master fund mainly invest in companies that majority source of their revenues come from Cloud Services (Pure Play) with a strong selecting criterion. E.g. Cloud services system that can be accessed via smart phones with Subscription-Based, Volume-Based or Transaction-based offering model. However, investor must be aware that The Master fund has highly concentrated investment in technology sector. Therefore, there is a risk for investors for losing their money.
Strong equities selecting criteria.
1. At least 15% growth in 2 consecutive years before it will be added to the index.
2. After being added to the index, a growth rate of 7% or more is required for at least 1 in 2 years to be added in the index continuously.
3. Must be listed company in Nasdaq, NYSE, or CBOE.
4. Company's market share must be more than US $ 500 million.
5. Not a bankrupt company
The strength of WisdomTree Cloud Computing UCITs ETF is using Equal-weighted Allocation investment strategy which help diversify the investment to equities that are in BVP Nasdaq Emerging Cloud Index equally. Also, help enhancing opportunity to invest in mid-smaller company with high growth potential.
Example of fund's equity selection
Zoom
The world's number one online video conferencing leader, cloud technology is applied to create a platform that meets user's needs around the world. Their services help support and increase efficiency of work and distance learning systems.
Shopify
Leading e-Commerce Solutions company that helps support online merchants with e-commerce full-service solutions. The services offered by Shopify including website, payment, marketing, inventory management, data analysis and transportation to meet the world of e-Commerce.
Adobe
The creative cloud business leaders that most preferable by organizations and individuals. Adobe has offered the solutions of the world of digital media experiences and paperless to their customers. We believe that everyone's computer must have at least one Adobe's program.
In addition, other fund's holdings are Saleforce.com, Anaplan and Workday which are the leading providers of Cloud Service with continuous recurring income.
During Covid-19 pandemic, looking for stocks or businesses that could benefit from the pandemic is one of most investor's criteria. Cloud computing is one of the business that benefit from the pandemic. Country lock down and social distancing policy are likely to accelerate the pace of digital transformation as well as the growth of digital information. We all have to admit that digital world is more convenient, faster, and lower cost, we are unlikely to go back the traditional offline system.
For more information
Principal Asset Management Co., Ltd
Address: 44 CIMB THAI Bank Building, 16th Floor Langsuan Road, Lumpini Pathumwan, Bangkok 10330 – Thailand
Website: https://www.principal.th/
Phone: +(662) 686 9595
Email: clientservice@principal.th
Investor can find more investment update
Facebook : https://www.facebook.com/principalthailand
LINE : https://lin.ee/C6KFF6E or @principalthailand
YouTube : https://www.youtube.com/channel/UCqELMp69UteyKgtWo4JuBqg
Disclaimer:
• The investors should study and understand the product (fund) feature, return condition and risk factors carefully before making an investment.
• Master fund has highly concentrated investment in USA. Therefore, investors have to diversify investment for their portfolios.
• This fund mainly invests in technology sector. Therefore, there is a risk for investors for losing lots of money.
• The fund or Master fund may use derivatives as a tool for hedging purpose depends on fund manger decision.
• The fund has exposure in foreign exchange risk, investors may receive gains or losses from foreign exchange or may lose the initial investment.
• Past performance is not a guarantee of future results.