Diversifying your portfolio with growth stocks globally with Principal Global Opportunity Fund (PRINCIPAL GOPP)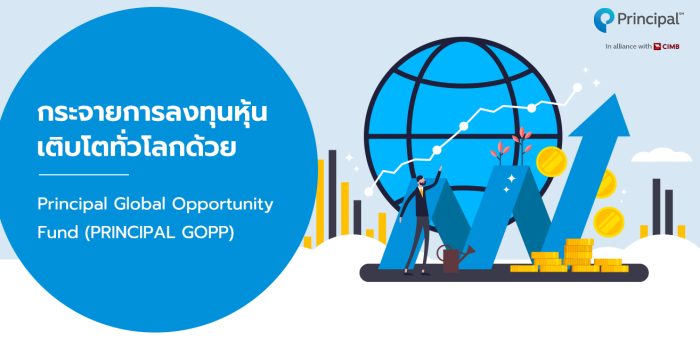 It is undeniable that the world's investment and equity markets have been inevitably affected by Covid-19. Hundreds of cities all over the world were in lockdown to control the local transmission of the outbreak. Now the situation seems to be levelling off and under control, governments from many countries begin lifting the restrictions. Many investment analysts signaled the same direction that the worst of virus hits have already passed the bottom line. The world economic situation will begin to ease slowly and gradually. However, we are recommending every investor to carefully plan your investment strategy.
One of the most common ways to diversify one's portfolio is "not to put all your eggs in one basket" which means you must invest your money in different asset classes or securities to minimize your portfolio risk. To have a better expected return during the crisis, diversifying your investment portfolio to high quality growth companies globally is well recommended.

Now focusing on Thai stock market, the market is rarely grown during the past 7 years. On the other hand, the world largest stock market, S&P 500 Index, has been consistently giving positive return after Hamburger crisis. After the global stock market plunged in March 2020 because the impact of COVID-19, the S&P 500 Index was able to reach its all-time high. In the midst of the crisis, diversifying portfolio in growth stocks around the world will lessen portfolio investment risk and provide investor a chance to gain better return.
Principal Global Opportunity Fund (PRINCIPAL GOPP) is a feeder fund which has a policy to invest only one foreign fund, Morgan Stanley Investment Funds Global Opportunity Fund – Z Shares (master fund). The master fund is managed by Morgan Stanley Investment Management (ACD) Limited. The objectives of the master fund are focusing on investing in 20-30 high quality growth companies, holding percentage of Top 10 companies is up to 48.13%. (Source: Fund Fact Sheet of PRINCIPAL GOPP as of August 31st, 2020)
Amazon.com Inc., the world's leading online retailer and cloud computing is the master fund's top holding, 7.45% of total net assets (As of June 30th, 2020). Amazon has active users of online retailer more than 460 million users and they have Prime users of more than 140 million people which shows the company's strong financial performance. Additionally, while other companies started laying off their employees, Amazon has hired 175,000 additional people during the COVID-19 outbreak. As a result, the total number of employees that Amazon has been hired reached 1 million in April 2020.
Another interesting stock is TAL Education Group, is a Chinese leading educational and technology company which provides after school comprehensive tutoring services. The company is committed to integrating the internet and technology into education to deliver a better study experience for children. The Company's learning center network currently covers 90 cities, 700 branches with over 3 million users (as of August 2020)
Additionally, the company has grown its online courses during COVID-19 impact.
The fund is holding Mastercard, the payment innovation company. Alphabet Inc., parent company of Google Inc. and Zoom Video Communications Inc. that highly benefits from work from home during the covid-19 lockdown.
Fund performance of Principal Global Opportunity Fund (PRINCIPAL GOPP) between January 1st – August 31st, 2020 was +37.64% whilst MSCI World Index showed +4.1% during the same period. This shows the ability to select performing stocks during the crisis. Additionally, Global Opportunity Fund - Z Shares is guaranteed the quality of 5-star mutual funds by Morningstar (as of 31 August 2020).
For more information Click Here
Disclaimer:
• The investors should study and understand the product (fund) feature, return condition and risk factors carefully before making an investment.
• The fund's investment is concentrated in USA. Investors are advised to consider relevant risks by diversifying their overall investment portfolio.
• Past performance is not a guarantee of future results.
Copyright @ 2020 Morning Star Research Thailand Co., Ltd. All rights reserved. The information contained herein:
(1) is owned by Morningstar Company and / or data provider
(2) Morning Star Research Thailand Co., Ltd. reserves the right to reproduce or distribute.
(3) Morning Star Research Thailand Co., Ltd. reserves the right not to be responsible for correctness, completeness, and any damage that occur in all cases from the use of information for reference.
Past performance is not a guarantee of future results.
For more information
Principal Asset Management Co., Ltd
Website: https://www.principal.th/
Phone: +(662) 686 9595