Educational Challenges and Investment Opportunities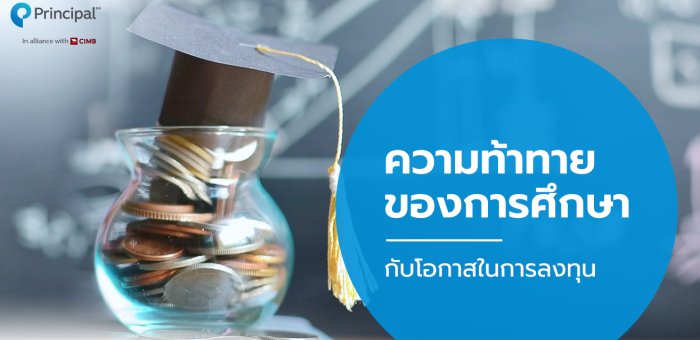 Unquestionably, COVID-19 is here for the long haul and affect us deeper than anyone could anticipate. Hundreds of cities were in lockdown. Businesses around the globe, from little to worldwide organizations are currently suffering or even shutting down. There is no denying that the pandemic massively affects many structural changes. For instance, many companies allow their employees to "work from home" and implement "social distancing" to avoid local transmission
While organizations all over the world are adapting to work from home practices, technology and digital platforms come in hand to help to provide business solutions for working remotely e.g. Telecommuting, video conference, and other collaboration platforms. As of today, the number of COVID-19 cases reported in Thailand seems to be leveling off, but many organizations are implementing "work from home" the main reason is the matter of safety. But on the other hand, work from home can also help increase overall work efficiency.
The impact of the COVID-19 affects negatively on a variety of industries, especially the educational industry. Schools, universities, and other educational institutions were closed, allowing students to study online during the period of school closure. However, the behavior of modern populations especially Gen Z or children under the age of 20, is already familiar with the technology which makes online learning convenient and popular.
According to the World Bank and other researches, the results have signaled the same direction indicating the failure of education systems that students being in school is not equivalent to learning in terms of the absorption of information from students. The information gained from learning in the classroom is outdated in fast-paced which makes students look for updated information from the internet. Thus, they felt that learning in the classroom was less effective than in actual practice.
A pilot training course is the most obvious example. The individual who wishes to become a pilot needs to take pilot courses in order to acquire the pilot permit. Both ground and flight training are incorporated, concentrating on reading material alone isn't sufficient to show them how to fly the real plane securely. Thus, a flight simulator is being developed for pilot students that allow them to be able to enhance their flying lessons before the actual flight. This concept is being developed and used by medical students as well.
For these reasons, Education Technology (EdTech) has been consistently advancing over the past 2-3 years, and with the help of COVID-19 acceleration, it is now introduced in the educational world. Edtech has been looked at from speculators around the globe that it will majorly affect the instruction megatrend sooner rather than later. Currently, the total valuation of the education industry is worth more than USD 5 trillion or more than THB 150 trillion. However, EdTech is only 2-3% of the total market value, which is considered to have a high growth prospect for investing opportunity.
For investors who are interested in EdTech, Principal Asset Management has issued an IPO of "Principal Global Education Tech Fund (PRINCIPAL GEDTECH)" in July 2020.
PRINCIPAL GEDTECH is a feeder fund of master fund, Credit Suisse (Lux) Edutainment Equity Fund- Share Class IBP USD. The master fund invests worldwide in equities and other equity-type securities issued by companies active in the field of edutainment which can be classified into 3 major categories 1. Innovative Services 2. Systems and tools and 3. Digital Contents. The investment shall be averaged in an accounting year not less than 65% of the fund's NAV. The remaining amount of funds will be allocated to domestic and international short-term fixed-income funds.
One of the stocks in the fund's portfolio is "2U", an online educational platform that provides learning resources from leading universities around the world. By bringing universities into the digital age with 135+ degree programs across a variety of verticals, a total of 75 university partners, 170+ short courses for those looking to further their education, it has more than 220,000 active users and continues to grow.
"CHEGG", a leading student-first interconnected learning platform provides textbook lending service, homework help learning services, and other further development for tutors to help teach and gain a greater understanding. There are currently more than 3,900,000 service subscribers.
Another interesting stock is "CAE", a worldwide leader in training for the civil aviation, defense and security, and healthcare markets. Their innovations are helping students to achieve more active and increase the efficiency of studying. The products are flight Simulator for pilots, operation rooms for medical students to enhance patient safety and defense, and security training to maintain defense force readiness.
According to Credit Suisse (Lux) Edutainment Equity Fund's past performance during the period before COVID-19 occurred, the fund was able to outperform the benchmarks. Moreover, during the early stage of the pandemic, the fund was able to maintain higher returns than the benchmark meanwhile the global asset returns were declining. The fund has been able to deliver outstanding performance aftermarket rebounded which Credit Suisse is expected that portfolio return will grow at an average of 33% and in the next 3 years and 20% for the next 3 years which is more than 2 times the market average return.
Disclaimer:
The investors should study and understand the product (fund) feature, return condition and risk factors carefully before making an investment. Past performance is not a guarantee of future results.
The fund focuses in investing in foreign funds, changes in price of securities that the fund invests will have an adverse effect to the fund's NAV.
The fund's investment is concentrated in USA and Japan. Investors are advised to consider relevant risks by diversifying their overall investment portfolio.
The Master Fund is concentrated in the Information Technology Sector, which is exposed to risks from consumer behavior changes and obsolescence of the products. If there is an event that affect the sector, there is a possibility of losing the principal amount invested. The fund's NAV might be more fluctuate than the fund that diversifies its investment in many sectors.
Thai funds and / or foreign funds (master funds) may invest in derivatives to hedge foreign exchange risks that may arise from foreign investment as appropriate. Investors may lose or profit from changing in exchange rate. There is a possibility that the Master Fund may face the loss from exchange rate which results in losing the principal amount invested.