If I could turn back time, I would save money.
Back in 1987 or 25 years ago, Thailand's aging population accounted for 6.8% of total population. Surprisingly, in 2017, 16.7% (Ref1) of the Thai population are made up of senior citizens. And the trend continues. The Bank of Thailand has pinpointed that Aging Society could lead to such significant challenges as stagnant economy growth, decreasing labor force, lower quality of life, and "poverty", the greatest challenge of all. Because of higher risk of facing poverty, the public has become more and more aware of retirement planning.
"More than 40% of Thai people have not started retirement planning."
"Savings" presents the biggest challenge for older people. At present, the major group of Thailand's aging population is "Baby Boomers" or those who were born between 1946-1964. Baby Boomers believe in working hard, saving up, and building assets. However, they are not keen on financial planning or retirement savings.
Successful business persons or professionals of this generation with vast amount of assets built over time may not need to plan for their retirements. But, this is not the case for everyone, making 26% of senior citizens stay in debt.
"From generation to generation, we are told to save up."
Aging society problem is not something new. We believe that preparation is the key to overcome such challenge. The first thing to note is that you need to know how much savings is sufficient when you turn 60 years old and soon to be retired. You should budget for retirement based on the lifestyle you plan to enjoy. To clarify this idea, you have to figure out the lifestyle you want to live once retired.
When you are retired, such expenditures as entertainment and transportation allowances are likely to go down. On the other hand, other costs like healthcare expenses tend to increase. Pre-retirees have to think about the kind of lifestyles they want to live and figure out how much they will have to spend for the so-called lifestyles. To paint a clearer picture, let us categorize lifestyles after retirement with corresponding monthly allowances into 3 groups;
1. Religious Practitioner:
Living a simple life and practicing dharma is probably an ultimate goal for some people. These people enjoy inexpensive activities like visiting temples, meditating, an eating at home. They will need only 25,000 baht a month to live this kind of life.

2. World Traveler:
Many people work very hard until retired. So, when they are retired, they want to enjoy travelling, either domestic or overseas. If they travel once a month, they will need 50,000 baht of monthly allowance.

3. Absolute Luxurer:
Once retired, some people want to live large. They dine at fine dining restaurants and enjoy travelling overseas. This group of people will need as much as 100,000 baht, much more than the first 2 groups.
The aforementioned categories give a good idea of allowances and lifestyles upon retirement. The amount of money we mentioned was in terms of present value. So, taking into account inflation, goods and services will become more expensive over time. So, the power of inflation will have to be factored in calculating budgeted expenses.
"How much money do you need when you are retired?"
Once you have the lifestyles of your choice, you will also have to estimate "how long you will live". The longer, the more money needed. From the latest survey, owing to medical advancement, the average lifespan of the Thai is 77 years and women tend to live longer. The good news is that you live longer. But, the bad news is you will need more savings.
The next thing you have to figure out is "how much money you will need at retirement?". The answer could be 9 million or 18 million or even 36 million baht, depending on the type of lifestyle you aspire for. Many people might think that getting that much money is impossible. However, to reach one's financial goal, it is unnecessary to have a large sum of money or earn a lot. It is all about when you get started, keeping disciplined, and good financial planning.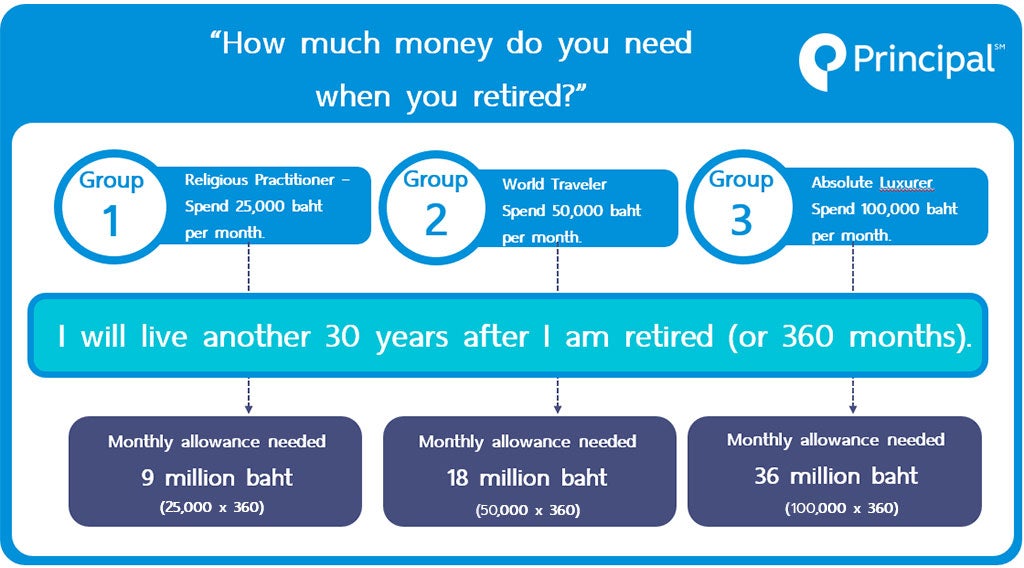 ​
"Start now. Do not procrastinate."

You might ponder on how to make that much money… Let us look at the two life stages.

Savings stage – this stage starts from when we leave college and enter into career life until when we approach retirement period. At this stage, people start to earn money and accumulate wealth. At the same time, expenses are also incurred from buying such assets as housing and cars.
Spending stage – on the last day of work, monthly income is replaced by outgoes to pay for costs of living. You may have retirement income from government pension or from your children. However, your mainstream income is from savings accumulated over savings stage.
As a first jobber, you may not earn a lot. Therefore, you might not look into retirement but put more effort into building wealth and accumulating assets. After staying in workforce for a while, you earn more and start purchasing assets. This is now a perfect time to begin thinking about how you want to live your life in the next 30 years and plan for retirement.
"2 vehicles to drive you towards wealth at retirement"
In overseas, people usually save up in "Retirement Account" or an investment plan designed specifically for retirement and usually managed by personal investment planners. The main investment principle for retirement portfolio is to start by investing in high-risk high-reward options and then switch to low-risk low-reward options as retirement approaches.
The first vehicle: "Savings"
Saving up millions of baht is not a piece of cake. Many people are familiar with the term DCA or Dollar Cost Average, which entails investing at regular intervals to build wealth over time. It is important to note that, once you earn more, you should save more. The amount of money invested does not necessarily have to be equal but should increase or decrease in accordance to your cash flow situation. Continuous monitoring and adjusting your saving amount are the first driver to help you achieve your investment goal faster.
The second vehicle: "Investment Tools"
In the past when interest rate was as high as 10 percent, one-million-baht savings could earn you as much interest as one hundred thousand baht. Nowadays, this may not be the case. Lower interest rate environment drives the interest you could earn over the same one-million-baht savings down to as low as 5,000 baht. People have shifted their investment interests from savings accounts to higher-return investment tools. The higher the risk, the faster you could reach your financial goal.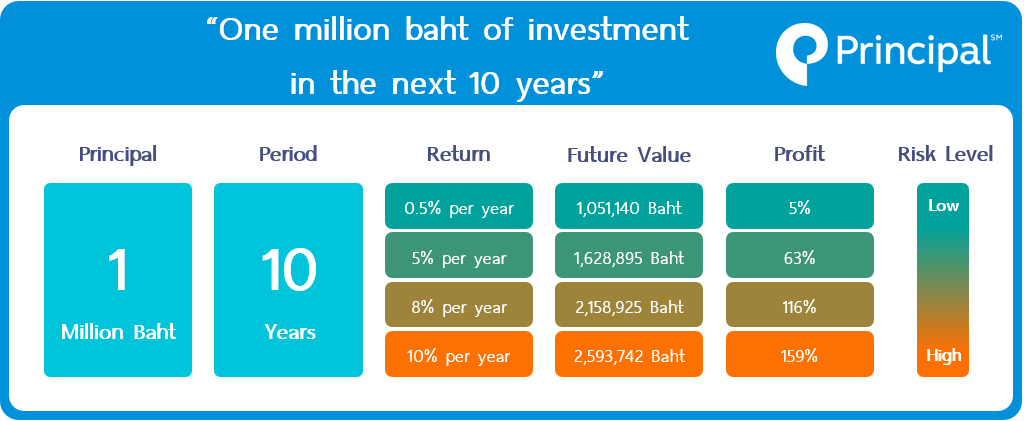 ​

"Return and Investment Plans"
Nowadays, investment vehicles are different from those in the past due to lower interest rate from savings accounts. Investors now look for investment tools that yield more.
All investments involve some degree of risk. The higher the risk, the higher the return, and vice versa. The best investment is what matches your risk appetite. If your asset allocation does not correspond to your tolerance for risk, you would always be nervous for making loss. This should not be the case. In order to make the best investment for you as an individual, you should understand each of your investment choice and its corresponding risk and know what to expect from your portfolio.
Thai investors have started portfolio management, particularly with long-term investment plans, such as, retirement portfolio. Since the main objective of retirement funds is to generate a steady flow of current income, asset allocation within this type of portfolio tend to be largely diversified.
For highly selective portfolio management, Thai investors, as well as overseas investors, usually use mutual funds to meet their underlying goals and objectives. Mutual funds have been shown to play a stabilizing role in the investment process because it enables diversification to foreign markets whenever possible. Moreover, mutual funds are operated by professional money managers, highly flexible in investment strategies, and inexpensive in terms of various fees involved.
All in all, retirement portfolio management is probably a new concept to many people. For some, retirement may seem like a distant notion. However, once it approaches, you may not be ready to handle life after retirement. At this point, you may want to ask yourself whether it is now time to start your retirement portfolio management. If you have not yet started, there are probably less than 30 years to go. Why not kick-starting your retirement planning tomorrow?
Reference
Ref1: https://gnews.apps.go.th/news?news=22878
Ref2: https://www.bot.or.th/Thai/MonetaryPolicy/EconomicConditions/AAA/2AgingPopulation_GlobalPerspectives.pdf
Ref3: https://en.wikipedia.org/wiki/Baby_boomers
Ref4 : http://www.fap.or.th/upload/9414/VR9pMweHc9.pdf