Invest in the future of global clean energy sector with PRINCIPAL GCLEAN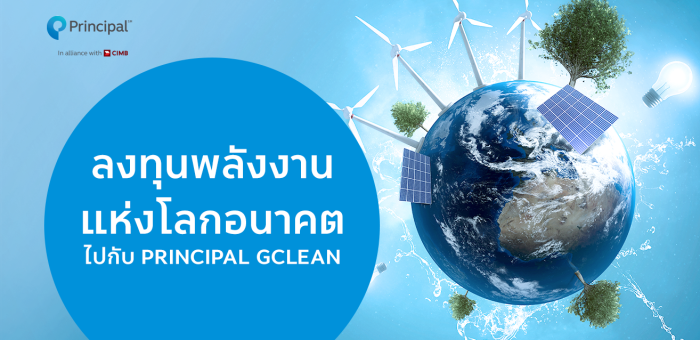 "It is undeniable that the global energy demand continues to rise, driven by emerging economies. But it's not the fossil fuel that is on the rising trend, instead, the demand for clean energy has been seen as a "green" and bullish future. The fact that using fossil fuels for energy has hidden costs that aren't represented in their market price. Not only it cannot be renewed, but also it is the cause of air pollutants which seriously harmful to human health and the environment in every process of its supply chain. We don't pay for the cost of asthma or cancer when we pay our electricity bill, but the costs are real. "
Clean energy- on the other hand, is given us far less negative impact. However, clean energy was not quite popular in the past due to its higher cost of production and when it comes to transition to a clean energy system, it was quite hard for policy makers to encourage clean energy usage. Now, the concern over environmental problems is intense among Millennials, the generation which is shaping and driving the growth of the world's economy. Thanks to innovation and technology developments, clean energy production is now at competitive prices.
Looking back at 2006, we can see that there has been growing investment in clean energy technology which has caused continuous research and development in the clean energy sector. Also, Joe Biden has won the US presidential election at the end of 2020. He has a policy of promoting cleaner energy usage. As a result, we should definitely see more policies supporting the clean energy sector from now on.
Aside from the United States, other countries also have policies to support and encourage the transition from conventional fossil fuels to clean energy. Whether funding entrepreneurs that produce clean energy or purchasing energy directly from clean energy producers as well as a continuous decrease in tariffs for imports and exports of clean energy.
What is Clean Energy?
Clean energy is energy that comes from renewable, zero emission sources that do not pollute the environment. Or if there is a negatively impact, clean energy is far less impact when compared to traditional fossil fuels energy. In every step of fossil fuel energy production, including the process of eliminating waste that arise from the production process, the greenhouse gases are produced, trapped in the atmosphere and caused global warming. Clean energy sources do no emit greenhouse gases especially the emissions of carbon dioxide (CO2). Clean energy is derived from sources that can naturally replenish themselves e.g., solar energy, hydropower, wind energy, biomass and geothermal energy that generated and stored in the Earth.
PRINCIPAL GCLEAN, investing in the world's mega-trend clean energy industry.
The future of clean energy looks bright as demand for clean energy is exploding. Usage of clean energy is expected to increase by more than 8-14% a year. For investor who is interested in Clean Energy sector, Principal Asset Management wishes to propose "Principal Global Clean Energy Fund (PRINCIPAL GCLEAN)". The fund will invest in the Master Fund not less than 80% of its NAV in average per year into iShares Global Clean Energy UCITS ETF Class USD (Dist). The investment policy of Master Fund is to invest in a portfolio of equity securities that consists of the component securities of the S&P Global Clean Energy Index.
1. Plug Power
An American company engaged in the development of hydrogen fuel cell systems that has been applied for commercial used such as replace conventional batteries in equipment and vehicles powered by electricity and also data center.Plug Power plans to expand to more than 500 refueling stations by 2024. (source: plugpower.com, 2019)
2. Xinyi Solar
A leading global solar glass manufacturer. The company's strengths are in the R&D, manufacturing automation, process optimization, technical sales support and after-sales services of solar glass products. (source: xinyisolar.com, 2019)


3. Meridian Energy
A New Zealand power company is one of the largest companies on the New Zealand stock exchange which the government holding 51% of shares. The company generates electricity through 100% renewable sources, wind, water and sun the serves residential, agricultural, industrial and commercial services. The company's strengths are that the New Zealand government has no control over the market prices. Their market is considered a market with few competitors so the company has the ability to set prices. Also, with a large market share, more than 40% of Meridian Energy's revenue is guaranteed that there will be a certain income. It is considered to be an essential for the continued growth of Meridian Energy. (Source: meridianenergy.co.nz, 2019)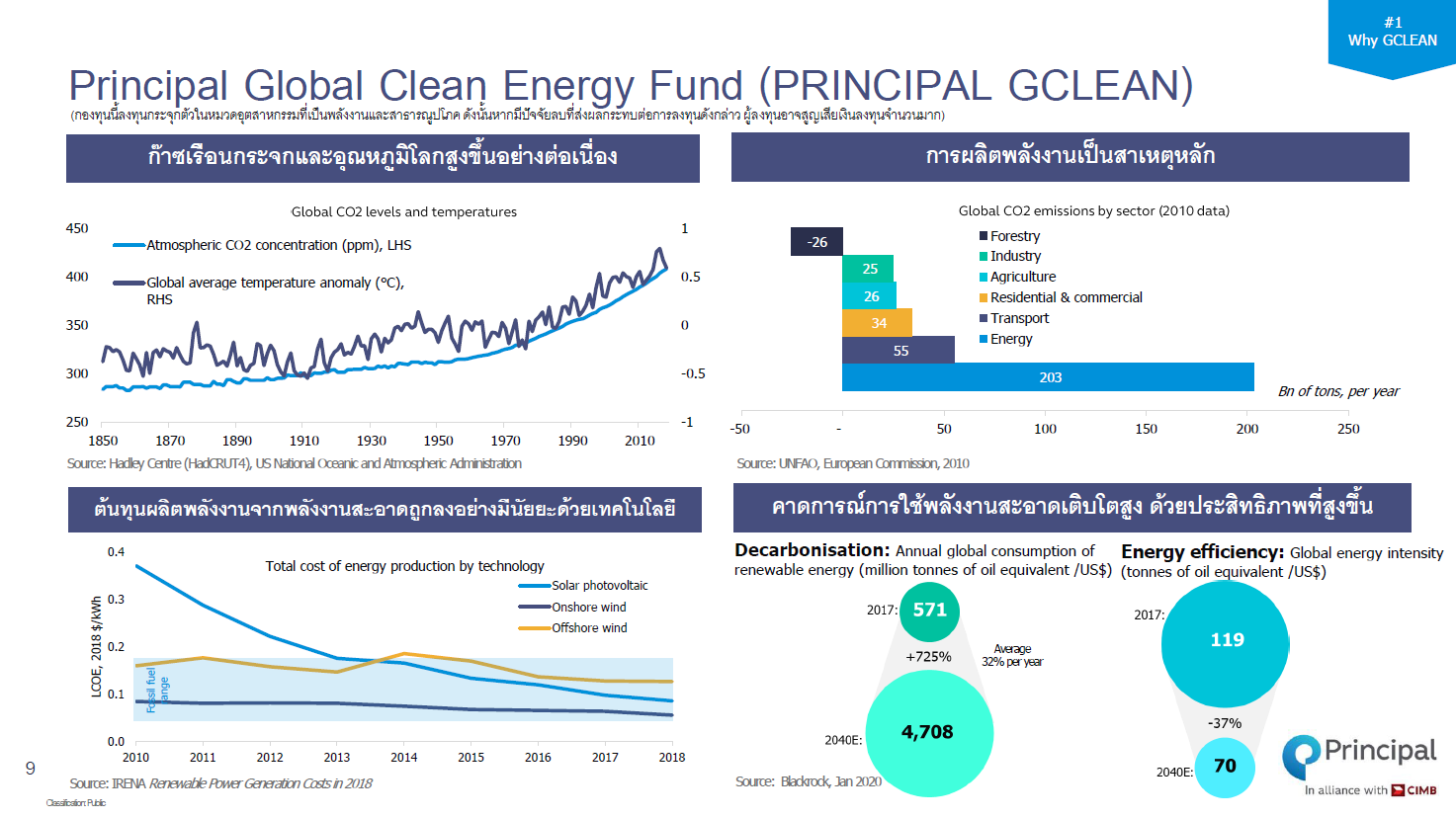 ​
The Master Fund, iShares Global Clean Energy UCITS ETF (Share Class) USD (Dist) is granted 5 stars from Morningstar Rating for 3 years and 5 years (Morningstar Jan 2021). Past performance of the Master Fund, in 2020 alone the fund has achieved more than 141% and the fund's past 3-year returns was 48%. On the other hand, The S&P Energy Index which is the benchmark for conventional energy sector, in 2020 has delivered a negative return of -34%. Thus, the Master Fund is considered to be quite attractive when it comes to investment securities selection. (Source: Bloomberg, Morningstar Direct, MSCI Jan 2021).
For investor who is interested in "Principal Global Clean Energy Fund (PRINCIPAL GCLEAN)", the fund will be available for IPO on 24-30 March 2021. For more information and distribution details, https://www.principal.th/en/principal/GCLEAN-A
For further study:
Facebook : https://www.facebook.com/principalthailand/posts/285811106247862
Disclaimer:
Investors should understand product characteristics (mutual funds), conditions of return and risk before making an investment decision.
Past performance of the fund is not a guarantee for future returns.
The Management Company reserves the right to change the type and special characteristics of the fund in the future to Fund of Funds OR funds that invest in the country or oversea OR back to feeder fund without increasing the risk spectrum in future at the fund manager's discretion.
Copyright © 2012 Morningstar. All Rights Reserved. The information, data and opinions expressed ("Information") and contained herein:
(1) are proprietary to Morningstar and/or its content providers and are not intended to represent investment advice or recommendation to buy or sell any security;
(2) may not be copied or distributed without express license to do so; and
(3) are not warranted to be accurate, complete or timely. Morningstar reserve its rights to charge for access to these Ratings and/or Rating report. Neither Morningstar nor its content providers are responsible for any damages or losses arising from any use of this Rating, Rating Report nor Information contained therein."