The New Era of Chinese Technology, How People Around The World Blend In with Chinese Technology?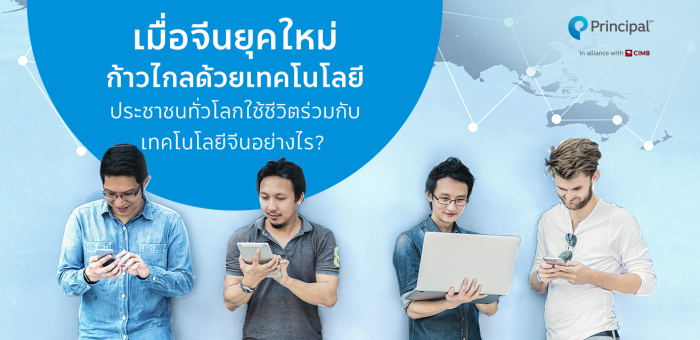 The word "technology" is no longer out of reach to the younger generation, especially Chinese technology that is known to play an important role in people's lives around the world. From the intention to drive technology to use within the country together with the advancement, they have made Chinese technology outstanding, advanced, and growing along with the economy as the Chinese government intended. The examples of well-known and widely used Chinese technology companies are as follow;
Tencent
Initially, Tencent provided web portals before the QQ chat program, a remarkable product, was launched, and it is later known as the Weixin chat app, which is widely known outside of China in the name of WeChat that achieved 1.17 billion monthly active users (Q1 2020, businessofapps.com). It gained popularity in many countries, especially in Europe and Asia.
According to the user base of both QQ and Weixin, Tencent has expanded its market to FinTech on mobile app payments, which just only takes its place behind Alibaba's Alipay. As Chinese tourists' shopping behavior tremendously grows, this Chinese payment application has never been easier to widely spread abroad.
In terms of entertainment, Tencent has also grown to become the leading online game provider in China. As the business grew, it invested in various game companies on an international level, including the creation of its own games as well. Its beloved games include Peacekeeper Elite (PUBG), Honor of Kings (RoV), League of Legends (LOL), and Clash of Clans, and, in addition to the games itself, the company also involved in music and drama entertainment media such as JOOX, WeTV, which has played a bigger role in Thailand because there are varieties of songs, series, and dramas offered in the app that meet the interests of Thai consumers.
Another worth mentioning aspect is the e-commerce platforms such as Shopee and JD.com that got promoted in many countries and are very popular in Thailand. In other words, Tencent has categories of applications that are aimed to respond to consumers' needs. Therefore, it plays a significant role in people around the world, and it is believed that people reading this article most likely have at least one of Tencent's applications installed on their mobile phones.
Xiaomi
Many people may have no idea that Xiaomi was first a company that kick-started with software before moving on to hardware and entered the global market accordingly. It all started with being a team that developed ROMs for Android mobile phones, and it stepped up to produce its own hardware starting with the launch of a smartphone packed with full high-end specifications at an affordable price. Moreover, it also expanded the market to target customers with less purchasing power, so a brand like Redmi was founded. It intended to reach out to a wider range of customers, and , apart from mobile phones, Xiaomi's products can be divided into two categories which are;
1. Products manufactured by Xiaomi, such as smartphones, laptops, smart wristbands.
2. Products manufactured by partners, which Xiaomi has invested in for business.
An interesting idea for products that are produced by partners is that Xiaomi started investing in these companies since they were start-ups to support these companies for research and innovation resulting in a wide variety of products covering all lifestyles of consumers.
Xiaomi's IoT devices are connected up to 324.8 million units worldwide (Q4 2020, Statista.com) with a growth of 24.8% (Q4 2020, thairath.co.th), and Xiaomi's income reached 49.8% (2020, Global Times) from many different countries other than China. It is still a steadily growing income every year.
The factor that makes Xiaomi's products so popular, besides using the latest technology in the production of products and delivering cutting-edge technology inventions, is simple, modern, functional quality, yet affordable prices. It is therefore not surprising that there will be more and more products from Xiaomi used across households in the future.
Meituan
Even though the name may not sound familiar to Thai people, Meituan is a leading provider in SuperApp E-commerce for the food industry under brands such as Meituan, Dianping, and Meituan Waimai. Having various service functions, whether It is Food delivery, Car-hailing, Travel booking, Deal offering, Bike-sharing, Hotel booking, Movie ticketing, and Entertainment & Lifestyle services with a total number of more than 200 types of services collected together. As if it were a collaboration of Grab, Lineman, Wongai, and Agoda.
This reason makes Meituan clearly become the first rank in market share of Food delivery in China with the proportion of more than 60%, while Ele.me is in the second place at 30%. The main factor that obviously benefits the Food Delivery business is the densely populated city, where customers are accustomed and attracted to the use of the platform, and profit can be gained by other functions Available in the application later on.
Moreover, Meituan also has the largest On-demand delivery network in the country bringing enormous data through AI or artificial intelligence that helps decide on the service needs of the users and increase the efficiency of the service, behind this greatness lies the support of Tencent and Alibaba.
Meituan's service is not only available in China but also Chinese tourists traveling abroad as well. The service in Thailand has been available since the opening in 2017.
KUAISHOU TECHNOLOGY
It is a company founded by Su Hua and Cheng Yixiao, who used to work at Google, Baidu, and HP. He created the application for short video-sharing, which includes a live streaming format where the product owner can advertise their products directly through a platform or a partner like JD.com. For this reason, the platform was not created only for entertainment purposes but also the alternative income channel as well.
The earnings of the application do not directly depend on the advertisement only because tips from viewers and content creators play an important role either, so it is considered as a major competitor of TikTok, which is known as Douyin in China.
In the beginning, the application is intended to be a place for sharing videos, creating a stage for users to have fair opportunities to represent their abilities, and bonding connections between users through talking which the average daily use time is 90 minutes.
It is currently ranked at the highest IPO since the outbreak of COVID-19. In the future, there are plans to add more features in the application, expand the business to e-commerce, online games supported by
Tencent, as well as penetrate overseas markets. The country where this app is extremely popular and has a high potential market is India. In addition, it has successfully penetrated the Korean, Russian, and Southeast Asian markets under the name Klip.
Beijing Kingsoft Office Software
Kingsoft, which is known as Microsoft of China, started in 1988 and launched Office products in 1989. Kingsoft now has four other subsidiaries: Office, Mobile, Game, and Cloud. There are two main products: WPS Office, which supports all platforms; WPS Mail or email service, which is rated as Top Developer on App Store and Play Store. Its main benefits being small size, easy to use, and available in 46 languages.
In Thailand, there has been a collaboration in the development of office software called "ThaiWPS" that responds to the needs of various SME users because of its affordable price, which is about 60% cheaper than other leading competitors. The strengths are still small size, easy to use, and special functions invented by research and development, helping users to work more easily and faster.
In addition, Kingsoft also offers WPS + or Cloud Office Software that covers all the services Kingsoft offers, including technologies such as animation rendering, online collaboration, security, information sharing, mobile service in which the company owns the intellectual property.
From these examples, it can be seen that no matter what Chinese technology brings, people like us are all involved either directly or indirectly. As consumers, distributors, or companies, the common need is advanced technologies with an affordable price. Therefore, Chinese technology is the top choice, and it is considered to be a fast-growing business in the future. It is thus a great opportunity to invest in a fund that covers a Chinese technology innovation business with great potential like Principal China Technology Fund (PRINCIPAL CHTECH), which will be launched for the initial public offering (IPO) on 19-25 May 2021. For those who are interested, learn more details at https://www.principal.th/en/principal/CHTECH-A
For more information, please click https://www.facebook.com/principalthailand/posts/320788472750125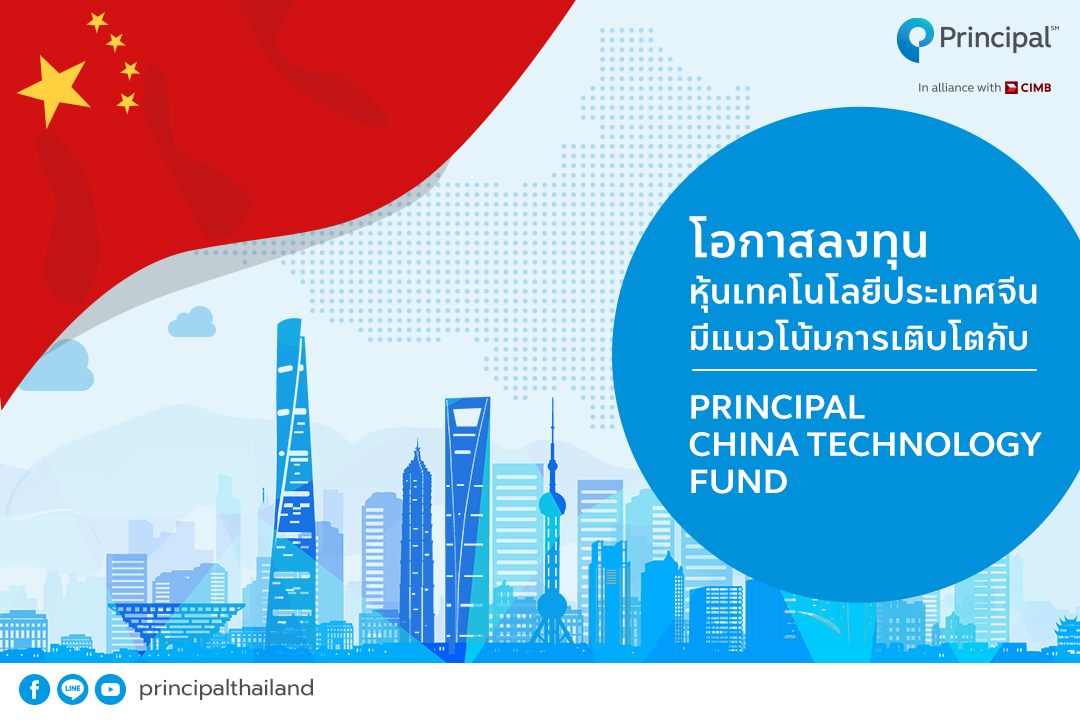 ​

For more information, please contact 02-686-9595
Disclaimer
Investors should understand characteristic of mutual fund, return conditions and risk before investing.
The fund and/or the master Fund may invest in derivatives for hedging purpose depends on Fund Manager decision, investors may receive gains or losses from the foreign exchange or may receive the money less than the initial investment.
The fund has highly concentrated investment in China. Therefore, investors have to diversify for their portfolio.
Investors should study the prospectus before investing.
Past performance does not guarantee future results.
The Management Company reserves the right to change the fund type in the future to Feeder Fund or Direct investment or return to a Fund of Funds without increasing the risk level of the investment, which is at the discretion of the fund manager that depend on the market situation and it must be the best benefit to unitholders. However, the management company will notify to the unitholders at least 30 days in advance by company's website at www.principal.th or any other channel specified by the Management Company.
Ref: https://pnstoretailer.com/who-is-tencent/, www.taokaemai.com/กรณีศึกษา-xiaomi-ขึ้นเบอร์-4-ของ/, https://www.thinkaboutwealth.com/xiaomi/, https://www.prachachat.net/ict/news-471052, https://www.tiscowealth.com/trust-magazine/issue-42/wealth-manager-talk.html, https://blog.mi.com/en/2021/03/24/xiaomi-reports-solid-revenue-and-profit-growth-for-2020/, https://www.posttoday.com/world/644824, https://positioningmag.com/1317102, https://mgronline.com/cyberbiz/detail/9600000047289, https://www.prachachat.net/ict/news-331841