How to design ideas for a smooth life and happy retirement?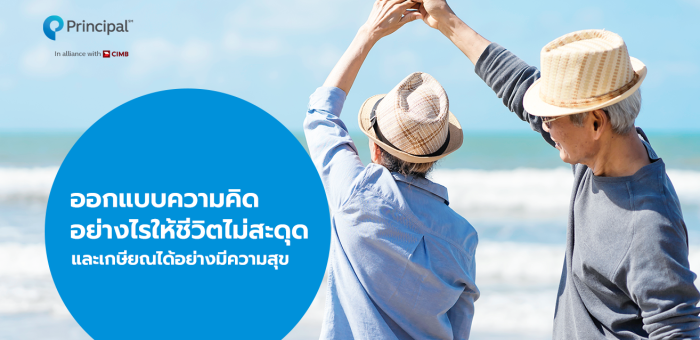 "We are all designers of our lives" - Bill Burnett, author of Designing Your Life.
Do you agree with this statement? Obviously, all people are born with different backgrounds but what we could do the same way is to design our ideas to live comfortably. We could start it immediately by adjusting our thought and today this article has 4 recommendations for you.
1) Dealing with suffering
When any kind of suffering comes in our lives, first thing we should do is understand and accept. Understand in what is caused, accept that it really happens. Then, move forward to next step of life plan by analyzing how to solve the cause of suffering, could we can fix it? Do we have a solution for releasing some stress? Or we might learn how to live with that suffering for a while before there is something changes.
2) Stay optimistic
This method is useful in balancing our thinking from not being overly negative until we feel hopeless and have no courage to do anything. We are recommended to imagine good things that could happen in the possibility basis. For example, turning the crisis into an opportunity as same as the idea of one door closes, another one opens. One opportunity lost, there always would be a new opportunity. In addition, it is incredible to meditate on the value of what we encounter each day to increase positive energy to our daily life.
3) Focus on financial planning
It is undeniable that 'money' is a large factor of having a smooth life. Current money is one part and also savings for retirement are also indispensable because not everyone wants to work for their whole lives or if they continue working, would they be paid enough for a living at that moment? No one could give an exact answer. So, if we plan our finances earlier to cover everything, it would be better. It is not only helping us to feel comfortable, but it also helps us see our plans in the future more clearly.
4) Adjust perspective on the problem.
Problem is inevitable; therefore, life may have to face it often. If possible, we should think that problem is a challenge and all problems can be solved but some might take time to consult, search and learn for more solutions. For example, if you have to leave your job suddenly and have problem with managing your provident fund. Do not decide to take the money out rapidly, this will affect the money you want to save for the future. There are still several methods of handling it, such as keeping money in the fund and transferring it to RMF for PVD or conditional members have the right to withdraw some money without tax. As we could see that one problem has many effective solutions to use.
Give an example of this provident fund because it is a one of investment plan which affects the happy retirement plan. Calculate it roughly, if we start accumulating money into this fund from the age of 25 by accumulating 3% of the salary of 20,000 baht and salary increases 5% per year and employers contribute 3%. The average return of the fund is 4%, at age 60, we will have about 1.2 million baht from the provident fund.
(Calculation example from https://www.set.or.th/education/th/start/start_start_3_5.pdf)
But the money received from the fund at this rate, when combined with other income sources after retirement, it may not be enough because nowadays the average life expectancy rate of the population is longer and the average return of the fund may be less than the calculated example. As most people choose low-risk investment plans and the Principal recognizes these issues. Therefore, the Principal creates a provident fund innovation for provident fund members under the name "Principal Target Date Retirement Fund"
The fund manager will adjust the investment proportion in each asset to suit the age of the members. The beginner of working age has a higher risk of assets than those nearing retirement because they have long investment more than 30 years before retiring. They are possible to take the highest risk, create better long-term returns, and reduce the risk of asset investment when it nears the time of taking money out of the fund. Then, they will have enough money to spend after retirement.
(More information >> https://www.principal.th/th/provident-fund)
If you are the one who wants to have a smooth life and live happily in the future, just do not forget to consider the above thinking method and always choose good things to apply in planning your life with discipline. The results will be good for sure.
Disclaimer: Investors should understand the product type (fund), conditions, returns, and risk before deciding to invest because previous performance could not guarantee for future performance
More information:
Website: https://www.principal.th/ or Tel. 02-686-9595

References: set.or.th ,brandinside.asia ,the101.world ,maruey.com