New year that does not have to be a new person, just be a better version of you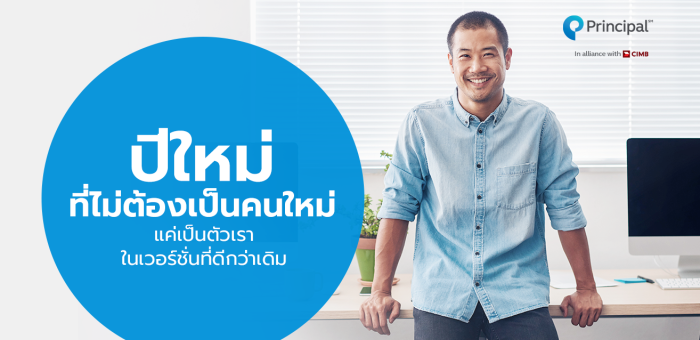 On the occasion of transitioning into this new year, there are many people who want to give up their old habits and change to be a new and better person. It is the ideal goal that only a few people are able to do; however, we are not possible to do it, but we do not have to pressure ourselves too much because just improving ourselves to be a better person is considered a perfect chance. Besides, if talking about ways to develop yourself sustainably, they would not be a rough method or turn it upside down immediately, but cultivating it into a habit and improving to be a routine would. Then, where could we start?
Try More
Increase the opportunity for life to meet good things by opening your mind to try new things for opening up perspectives, experiences, and skills which may be in works or hobbies such as when we learn in our interesting things, it could help to develop our career, also, making new friends in a new society such as applying to a club or group with specific interests. Although, the situation at this moment might not be conducive to integration, we can try things online, such as signing up for online courses or joining as a group member on various social media.
The important thing that should be coupled with the courage to try is a good mindset. Anything that has never been done do not think that you cannot or will not like it. Even when you try to do it, you might not be able to do it well, do not blame yourself but think that it is one step of self-development learning. It could be said that the way of thinking is as important as willpower.
Track Your Record
Recording is more helpful than many people could imagine. Personal development record is different from a general diary because it does not focus on what happened in a day, but it is a record by topic that would help in self-reflection, such as What have we learned today? What is the problem that I have encountered? What kind of solution is there?
This record will help us to know ourselves better, both strengths and weaknesses. Besides, the lessons learned from the record could be reviewed and analyzed, and applied in the future. Also, it will be an assessment and measurement of which aspect has changed from the past and how long will it take to reach goals. The record will stimulate and provide a framework for the clear and concrete journey towards the goal.
Save More
It is undeniable that having a lot of savings will give us the freedom to make decisions and develop ourselves in every aspect.
Savings are not just the amount of money but also to increase savings channels for savings. It could help to expand opportunities for savings to grow. Examples of savings channels that are very close and many people might not think it is not important is saving in a provident fund. The main purpose of the fund is long-term retirement savings and also receiving company contributions as same as an additional salary. The more you invest when you are young, the more opportunities to increase your savings.
However, currently, there is still an economic crisis that may make you feel insecure. Principal has a good trick to recommend, such as viewing details of the fund's performance in the past and study about the global markets that the fund has invested in. It will help you decide how to allocate and plan your investment. In contrast, for those who feel unsure because they do not have knowledge about investment or worry that there will have no time to change investment plan, they are able to choose Principal Target Date Retirement Fund which will automatically adjust the proportion of the long-term investment portfolio to suit the age of the members.
For more information: https://www.principal.th/th/what-is-target-date-fund
For further study in Provident Fund, click https://www.principal.th/th/provident-fund
In conclusion, it depends on several factors to successfully develop yourself into a better version; one of the important factors is discipline and regular monitoring of all aspects of information. Therefore, we can smoothly aim at our goal by modifying solutions to keep up with the world and the changing trends. Although no one knows how much change will face this year, Principal would like to encourage everyone to succeed in personal development and continue to move towards a better life and quality finance.
Disclaimers: Investors should understand the product type (fund), conditions, returns, and risk before deciding to invest / Previous performance could not guarantee future performance.
For more information:
Website: https://www.principal.th or TEL : 02-686-9595